Share activities to Twitter
Share from activity page
You are able to share your activities to Twitter from the activity page. Just click on "Share" > Twitter.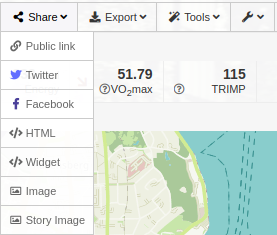 A new window will open where you can share the activity on Twitter.


FAQ
I don't see a Twitter Button
You need to make your activity public to be able to share that activity. Click on the "tool icon" and click on "Make public". Afterwards you will be able to see the Twitter Share button.
Related articles
Didn't find an answer to your question?
Please let us know if you have wishes or have encountered bugs. We give our best to make Runalyze as good as possible for you. - Therefore we would be interested in your suggestions for improvement. In general most questions, problems and ideas are more appropriate to ask in the forum.