Fitbit

RUNALYZE now works with Fitbit. The automatic synchronization with Fitbit allows you to transfer your activities from Fitbit to Runalyze without any effort.

For the beginning it is only possible to transfer activities from Fitbit. Once we have refactored the health area, other data will also be transferable.
Connect your Fitbit account
Click on "Connect" in RUNALYZE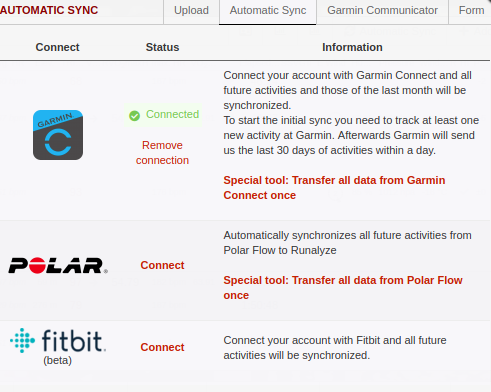 Grant RUNALYZE access to activities, gps and location, sleep, weight, heart rate and click on "Allow"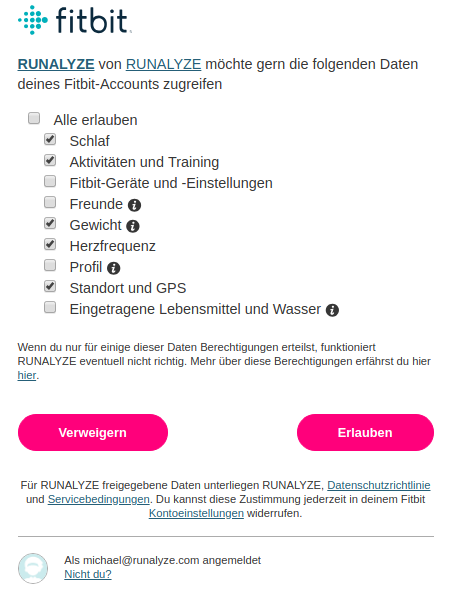 That's all. After you've recorded a new activity we will sync that activity automatically into your RUNALYZE account.
FAQ
Can I sync my Fitbit history to RUNALYZE?
Not yet, but we have this feature on our long to-do list.
What about sleep, weight, heart rate data?
We are refactoring the health section at RUNALYZE and it just don't make sense to add the sync for that kind of data now. We will enable the sync after the refactoring of the health section.
My activities are not getting synced
Try to disconnect from Fitbit and connect your account again. And be sure to select "all" permissions to allow RUNALYZE accessing your data. (At least GPS+Location and Activities are needed for the synchronization.
Related articles
Didn't find an answer to your question?
Please let us know if you have wishes or have encountered bugs. We give our best to make Runalyze as good as possible for you. - Therefore we would be interested in your suggestions for improvement. In general most questions, problems and ideas are more appropriate to ask in the forum.