Polar
Polar Auto Sync
This guide shows you how to connect your Polar Flow account to RUNALYZE so that your future activities are synchronized with RUNALYZE. 1. Click on the Automatic Sync button in the databrowser

2. Click on Connect 3. Authorize RUNALYZE to get access to your activities. Click on "Accept" to do so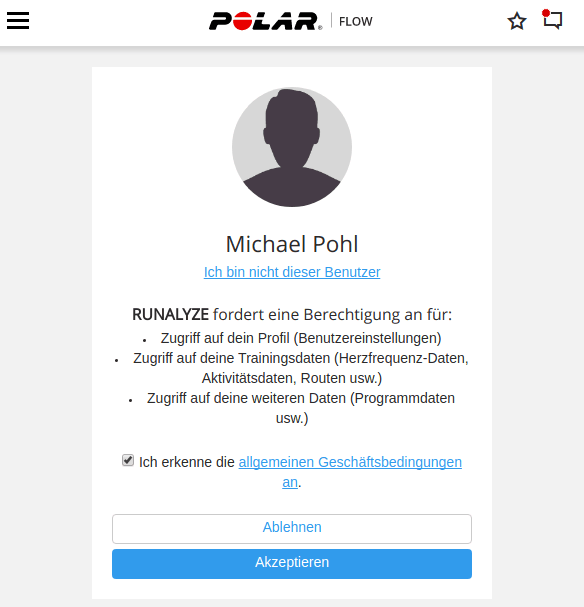 Go out and do your sport
All future activities will be synchronized from Polar to RUNALYZE. There is a slight delay of up to half an hour during synchronization.
Full history import
There is a way to to get all your activities synced to RUNALYZE. Click on "Special tool" at the Automatic Sync Tab. You will need to enter your Polar Flow Mail Address and Password (For your own security, we recommend that you change your Polar Flow password before entering it here. After the successful import you can change the password back again.)
This proccess can take some hours and it can fail as it's not an official supported. Please try it once again if not all activities are getting imported. If it should not work again expecting we have unfortunately no other possibility at the moment.
Other options
There is a software called bipolar which can download the activites from Polar FlowSync, PolarV800 or Polar Loop and there is another software called V800 Downloader on Github which does nearly the same.
FAQ
Are steps, weight data and co also transmitted?
Not in the moment. As soon as we have refactored the health section in RUNALYZE the data will be synchronized too.
The sync does not work
Only new activities after you connected your Polar Flow account will be synced.
In case it still does not work disconnect your Polar Flow account on RUNALYZE and also disconnect the RUNALYZE connection on the Polar Flow website
Related articles
Didn't find an answer to your question?
Please let us know if you have wishes or have encountered bugs. We give our best to make Runalyze as good as possible for you. - Therefore we would be interested in your suggestions for improvement. In general most questions, problems and ideas are more appropriate to ask in the forum.